Cures for Acne Scars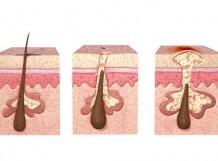 Easy Cures for Acne Scars
Many people all over the world are plagued by unbecoming acne scars. People tend to live with these afflictions for years into adulthood because of the cost that comes with getting acne scars removed. Fortunately, many at-home remedies are finally coming into light. Expensive chemical and surgical treatments are not the only ways you can easily cure your unsightly acne scars. Quite often, these more economical treatments are even better for your skin and have much more promising results. The results are not instant, but they are much safer and have a more lasting effect. Most of the things you will need can probably be found in your own kitchen or medicine cabinet.
Lighten and Exfoliate
Applying small amounts of lemon or lime juice and help to lighten and exfoliate the skin containing acne scars. The citric acid in lemon juice softens and therefore exfoliates the skin allowing your acne scars to flatten and blend in more naturally with your skin. Lemons are also very rich in vitamin C which causes a bleaching effect when placed on the skin. This will help to lighten the scar. Be sure to wash your hands and let the lemon juice soak into the skin for several minutes before wiping it away gently with a cool, wet cloth.
Cucumbers can also be used to lighten the pigment discoloration associated with acne scars. Cucumbers are high in vitamins and minerals which act as an inflammatory agent. Just slice the cold cucumber into discs and place on affected area for several minutes.
Turning Back the Clock on Acne
Here are some great ways to cure acne scars. Read below for the full details on each remedy. .
Rose water and sandalwood
Tomatoes
Cold pressed olive oil
Olive oil
Rose water and sandalwood have been used for centuries to slow the aging process. More mainstream uses have found that mixing rose water and sandalwood paste can help treat acne scars because of their natural anti-inflammatory components. The savory, tranquilizing effects can also soothe stress which is often a main factor in bringing about acne in the first place. When mixed together, rose water and sandalwood form a nice paste that can be used as a mask. It is completely safe to leave on for a couple hours, or even all night for the most comprehensive results. Just rinse with cool water and be left feeling relaxed and refreshed.
More and more, tomatoes are being used as a natural home remedy for easily curing acne scars. Tomatoes contain one of the most powerful antioxidants called lycopene and are also notably high in Vitamin C. When sliced fresh and placed on acne scars for about 30 minutes, the tomato can help stop the formation of free-radicals, allowing new healthy skin cells to thrive.
Cold pressed olive oil, referring to the fact that the temperature was not over a certain degree at time of pressing, can be used to rid the appearance of acne scars. Olive oil contains natural antioxidants that are not commonly found in other oils. Olive oil can be rubbed gently into the area of acne scars to deeply moisturize and rejuvenate that area of the skin, allowing for a safe and natural exfoliation.
Lavender oil is another inexpensive way to easily cure acne scarring. The word lavender comes from a Latin word meaning to wash. Washing away impurities is exactly the kind of healing effect needed in ridding skin of unattractive acne scars. Lavender is great for this because of its ability to treat inflammation and to promote relaxation.